In Colorado Springs, there are so many cool and dog-friendly activities for you and your best friend to enjoy. Beyond the vast beautiful hiking trails and adventures, you and your dog can go on Colorado Springs offers over 20 breweries that allow dogs to wait for your arrival. With so many to pick from, you'll need a guide to help you determine which ones are the best to take your pup for a nice, cold brew. We encourage you to read through all of these amazing options and see our map of the locations of each of them.
At Ponderosa Veterinary Clinic in Colorado Springs, we are dedicated to educating pet owners on everything pet, in this case, your dog's safety and wellness are our top priority. One important yet overlooked aspect of pet wellness is enjoying quality time with your dog. We've compiled this list of pet-friendly breweries, providing a mutually beneficial location that allows you and your dog to socialize and get out of the house.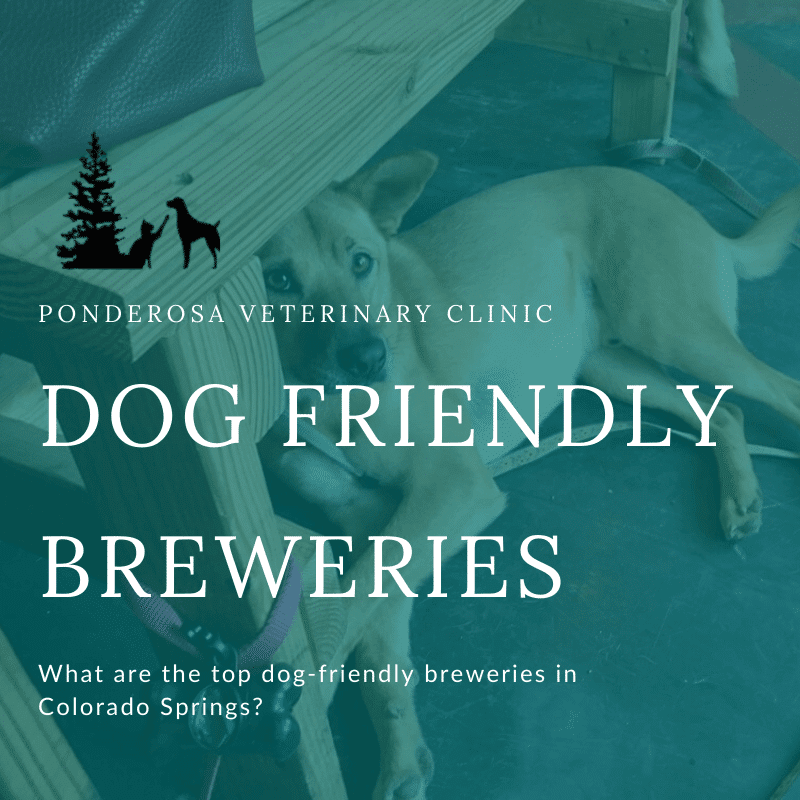 Dog Friendly Breweries
Trinity Brewery located off Garden of the Gods offers three things that make it a great brewery location, great views of Pikes Peak from their amazing patio, a mouthwatering menu of vegan and "carnivore" options, and the many events open to the public that bring the community together, including beer openings every Friday. Bring your dog to this dog-friendly brewery and enjoy the patio area, try making your own burger, and enjoy a nice, cold brewski with your pup. Trinity has received numerous awards including best #1 rated brewpub 2012-2017.
We couldn't make a list of top breweries to take your dog and not mention Pub Dog. Pub Dog is easily the most popular place to take your dog in Colorado Springs. We think this is because they have a nice open space for dogs to run around and play. Additionally, this dog-friendly brewery has a menu made for both dog and dog-owners. That's right, your dog can order a bowl of sweet potatoes and sliced meat while you enjoy your meal. In fact, Pub Dog is the only restaurant in Colorado that allows you to eat at the same time as your dog indoors.
The Bristol Brewing Company is a dog-friendly brewery that has been transformed from an old school building into one of the biggest breweries in Colorado Springs in 2013. Bristol Brewing Company has been around since 1994. Upon entering this dog-friendly brewery in Colorado Springs you and your pup will find that they offer numerous featured Bristol beers such as Compass, Red Rocket, Bee Hive, and more. Their food menu offers a variety of dishes to please anyone's palette. The best part of it all? Their outdoor patio is spacious and allows you and your dog to soak up the sun weather permitting.

This brewpub is a great friendly and laid-back environment perfect for dogs, indoors, or out! The Smiling Toad specializes in IPAs and offers spirit tastings every Friday and Saturday from 2-5. Dogs are required to be leashed, but the dog-friendly patrons are very welcoming of your furry friends and will treat your dog like a king or queen with water and treats offered generously. This casual atmosphere is great for mingling with other dogs and dog-owners making it easily one of our favorite spots. Their variety of food-trucks also make this place a great place to grab a bite with your pup as well!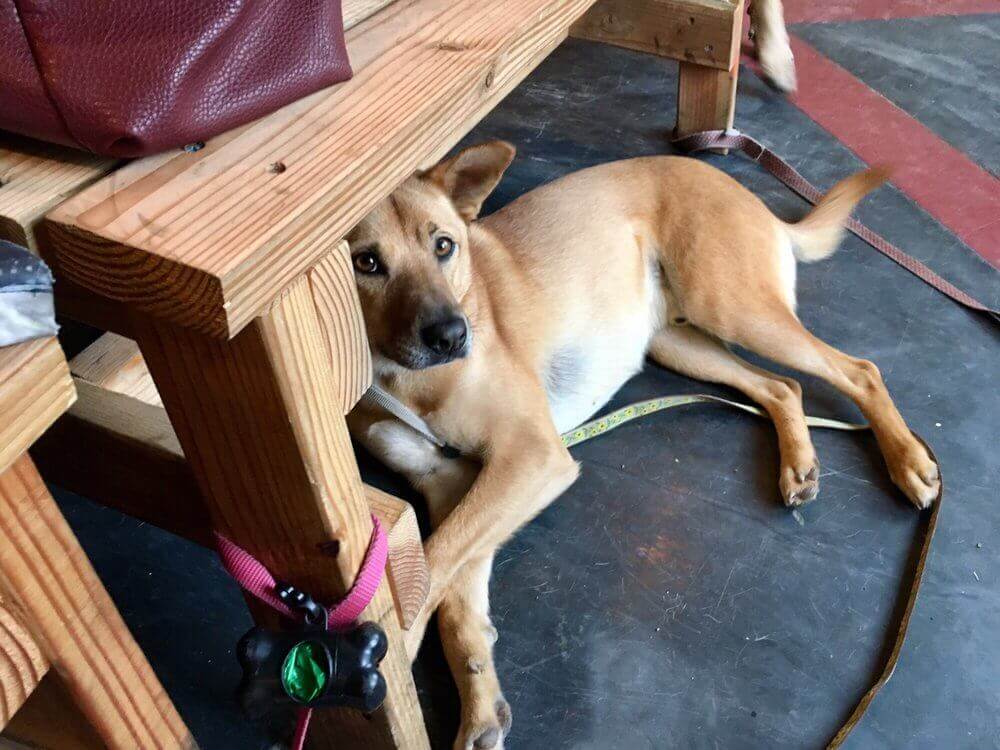 FH Beerworks is a dog-friendly brewery located central downtown and eastern Colorado Springs, it opens its doors to dogs and offers 15 tapped beer in addition to their own featured beers growing in popularity. FH Beerworks has a beer lawn perfect for dogs to play as you sip beer and enjoy the weather. This dog-friendly brewery has food trucks that serve a variety of delicious entrees in addition they allow their patrons to bring their own food.
Lost Friends Brewing is a local dog-friendly brewery in Colorado Springs. This brewery is known for its exceptional seasonal and wide variety of beer choices. It provides you with a unique atmosphere to mingle with other dog lovers as your dog does the same with the dogs. However, the most memorable aspect of Lost Friends Brewing is their dedication to lost dogs. They not only donate to adoption agencies across the state but they also hold events to help dogs find their forever homes. They even have a page dedicated to dog adoptions on their website where you can see dogs that are up for adoption. Lost Friend Brewing is much more than a dog-friendly brewery rather they are an advocate for lost dogs.
Storybook Brewing is another phenomenal dog-friendly brewery in Colorado Springs. They have a plethora of unique and interesting beers for you to try as your dog enjoys the company of other dogs. This dog-friendly brewery houses many events throughout the week providing you and your dog with a wide variety of opportunities to get out of the house and meet new friends.
The Rocky Mountain Brewery located in Colorado Springs and provides not only a dog-friendly environment but also great beer for you to enjoy as your dog plays. Rocky Mountain Brewery has a wide range of beers and ciders that are guaranteed to please all. They even have the option for you to take home some of their amazing beers to enjoy later. This dog-friendly brewery in Colorado Springs also houses many exciting events throughout the year. This world-class brewing company invites you and your dog to come and enjoy a brew.
This brewing company is filled with exciting and tasty food and beer. It is also welcoming to dogs. JAk's Brewing is a dog-friendly brewery in Colorado Springs, they have a wide variety of hand-crafted beer, guaranteed to provide you with an option to enjoy. Throughout their multiple locations in the springs, they encourage you to bring your dog try their handcrafted beer, and indulge in some amazing food from a variety of local food trucks.
This unique and innovative dog-friendly brewery provides you and your dog with an amazing atmosphere to mingle and connect with others, all while enjoying a nice cold beer. The Dueces Wild even provides unique events at two separate locations. This dog-friendly brewery displays all of their travels in a quirky the Duece is Loose page showing off its unique company, and beer.
Pikes Peak Brewing is quite possibly the largest dog-friendly brewery providing both a traditional brewery for you to visit with your dog, as well as the option to purchase their unique brews in your local liquor store. This brewery accepts dogs and encourages you to bring them to their many events and two locations of Monument and Colorado Springs.
Goatpatch Brewery is a dog-friendly brewery located in Colorado Springs providing a diverse collection of seasonal and innovative beers. They also have frequent events that they encourage you, your dog, and your friends to come to enjoy a tasty beer paired with a variation of local food trucks. Visit their calendar of events to see what events are happening and what food trucks will be available.
Fossil Craft Beer is a local dog-friendly brewery in Colorado Springs that encourages dogs and their owners to enjoy their unique beer and taproom environment. In addition to their variety of different events and concerts. This environmentally conscious brewery is looking out for the safety of you and your dog as well as the entire world. Fossil Craft Beer donates 1% of all its sales to environmental non-profit organizations. As for the food, Fossil Craft Beer has a long list of food truck partnerships to supply you with a variety of different food to pair with your amazing beer.
This local dog-friendly brewery is located in Colorado Springs and provides not only a great location and atmosphere for you and your dog but also phenomenal food and beer. Metric Brewing has a wide variety of beer options and food truck options for you to enjoy through their events.
Cerberus Brewing Company is located in Colorado Springs. They are one of the best dog-friendly breweries in Colorado Springs. This individual brewery has a vast menu of delicious options. These many food options pair well with their amazing beers that will satisfy you as your dog enjoys quality time with you.
More Dog Friendly Brewery, Colorado Springs
Although these dog-friendly breweries did not make our list of the top fifteen dog-friendly breweries in Colorado Springs, they are great places to take your dog. All of these places allow dogs. Some of the locations listed below and above restrict dogs to only their patio areas, therefore we advise to visit their websites or give them a call. As always, bring your leash as they are usually mandatory for entrance and exiting the buildings.
Have A Beer With Your Dog In Colorado Springs | Ponderosa Veterinary Clinic
Great beer and quality time with your furry friend are the main ingredients for a fantastic day. If you are looking to enjoy a meal, a beer and quality time socializing with your dog, consider activities on this list.
At Ponderosa Veterinary Clinic, we want you to make amazing memories with your dog every day. We hope that this list helps you to find good food, good beer, and friendly dogs: all the good things in life. Preparing your dog to be adventure-ready is what we specialize in, we offer a variety of services including wellness exams, vaccinations, or bloodwork, and more. Contact Us today to keep up with your dog's health.