Ponderosa Veterinary Clinic is proud to announce our relocation to a new office on the corner of Woodman and Black Forest! As of December 2020, our new address will be 7471 Black Forest Rd Colorado Springs, CO 80923.
Ponderosa Veterinary Clinic was founded in 2017 by Dr. Rick Coufal who has been providing compassionate pet care in the Black Forest area since 2000. Our new office will allow us to grow the clinic and provide the best care for Colorado Springs pets with quality, modern technology.
"We are thrilled to have this opportunity to expand and upgrade. This move is so exciting, especially knowing we have a remarkably kind and talented team to care for all of the pets that visit us, new and old," said founder, Dr. Rick Coufal.
The new construction building has more space, including a lobby, waiting room, and six exam rooms, so the clinic is better able to serve pets and their owners. Additionally, the clinic now has kennels for bigger dogs, along with the standard stacked kennels that were used previously.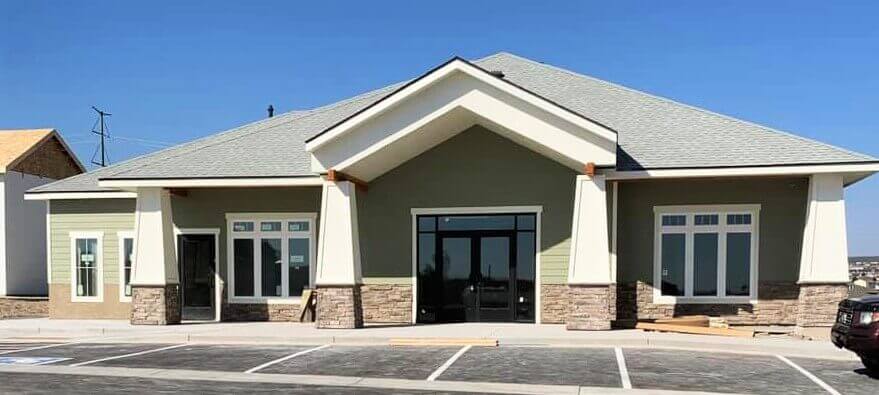 About Ponderosa Veterinary Clinic
When we established Ponderosa Veterinary Clinic, we knew that we wanted to be different. We value building relationships at Ponderosa. That's why, when you walk through our front doors, you and your pet become part of our family. As a vet in Colorado Springs, we provide kind and affordable vet care for dogs and cats, offering a wide variety of veterinary services including:
Wellness Exams
Emergency Vet Care
Microchipping
Spaying and Neutering
Vaccinations
Dental Care
Euthanasia
Digital X-Rays
Lab Work
Pet Health Certificates
Service Areas
While our office is further north, we provide exceptional veterinary services for pets all over Colorado Springs. Our immediate service areas around our physical office include:
Rockrimmon
Briargate
Northgate
Powers
Old Colorado City
Downtown Colorado Springs
Cheyenne Mountain
Ponderosa Veterinary Clinic Cares For Your Pet | Schedule An Appointment 
At Ponderosa Veterinary Clinic, we treat your furry friends like our own, and give you the information that you need to continue loving and caring for your animal. If your pet is due for a veterinary visit, schedule an appointment with our team at Ponderosa.