Cats are remarkably independent; they often keep to themselves and take care of their own basic needs to the best of their ability all while providing incredible companionship. While their ability to maintain their autonomy is impressive, it can often be hard for their human companions to sense any health concerns that may be impacting their cats. In order to get a comprehensive picture of how your cat is doing, most veterans will recommend annual, routine blood tests for cats to check various levels that indicate how healthy your feline is.
At Ponderosa Veterinary Clinic in Colorado Springs, we believe it is important to educate our neighbors about the in-depth health of their cat so that feline owners may always be prepared to make the best decisions for the overall happiness and well being of their pet. At Ponderosa, our team of expert veterinarians highly recommends annual wellness exams for pets in addition to routine blood work. We understand that it can feel overwhelming to bring your cat in to the vet and even nerve-racking to read through cat blood test results, so we want to help pet owners throughout Colorado Springs understand the importance of having lab work done for cats.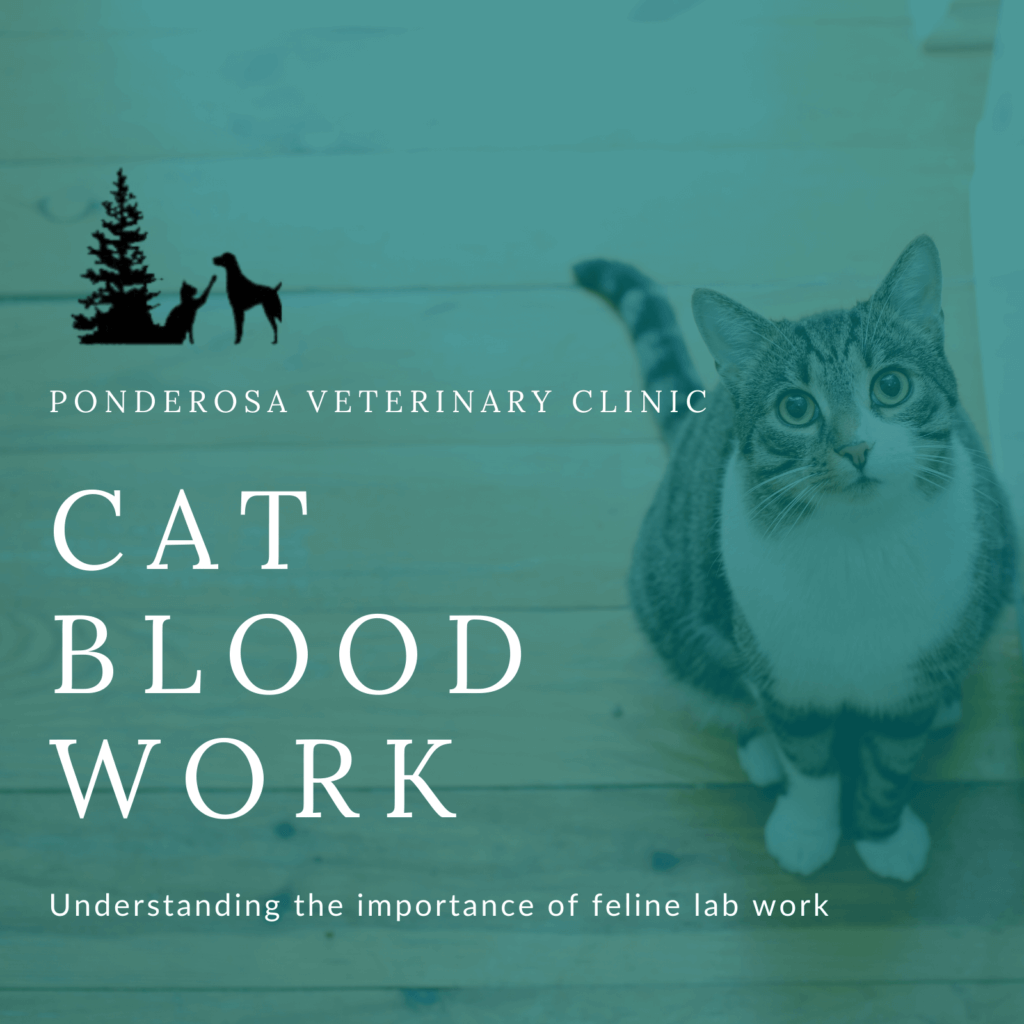 Cat Blood Test Procedure
In addition to annual wellness exams, most veterinarians recommend routine blood work for cats to get a deeper look into the health of your cat. Cat lab work focuses on the following: complete blood count, blood chemistry profile, and thyroid hormone levels. 
Cat CBC (Complete Blood Count)
Feline lab tests include a full CBC, complete blood count, which examines your cat's white blood cells, red blood cells and platelets. In addition to understanding these basic levels, the complete blood count, or CBC, also focuses on the individual cells that may reveal structural abnormalities that can ultimately lead to detrimental diseases in your cat.
Red Blood Cells: Contain hemoglobin and carry oxygen.

White Blood Cells: Impact the immune system and its response to threats.

Platelets: Responsible for blood clotting.
Cat Blood Chemistry Profile
In order to fully understand your cat's blood work results, it is helpful to know how a blood chemistry profile impacts your pet's well being. A cat chemistry profile provides the owner information about their feline's organ health and function, blood sugar, and vital electrolytes. The following are typically included in a blood chemistry profile for cats:
Liver function indicators: ALP, ALT, AST, and bilirubin. If these levels are higher than usual, it may indicate liver disease or abnormalities in other organs. 
Kidney function indicators: blood urea nitrogen and creatinine levels indicate the health of a cat's kidneys or issues in their renal system. 
Immune system indicators: blood protein levels show veterinarians potential issues with clotting and general immune function. 
Electrolyte abnormalities: levels of potassium, calcium, chloride, sodium, and phosphorus are measured to rule out additional health concerns for cats.
Thyroid Disease in Cats
The third component involved in a cat blood test is designed to examine thyroid levels, typically T4, in cats to analyze the potential of thyroid disease in cats. Most veterinarians will only perform this part of the cat blood test when hyperthyroidism is suspected in older cats. If your cat has abnormal thyroid hormone levels, then this test will allow you to work with the veterinarian to figure out how to best care for your cat moving forward.
Get A Comprehensive Picture of Your Cat's Health | Ponderosa Veterinary Clinic
Our experienced veterinary staff wants nothing more than for our neighbors in Colorado Springs to enjoy their time with their pets. In order to experience each day with ease knowing that your cat is thriving, then it is vital to know the big picture of how your pet is doing. With the incredible results that cat blood work can show, we can take the numbers and translate them into a plan of action so that you are always empowered with the ability to make the very best decisions for your cat. Give our compassionate staff a call today to schedule lab work for your cat, so we can take a deep dive into the details of your feline's health.