As you drive, you glance in your rearview mirror to see your pup, tail wagging with lightning speed in anticipation of the fun planned for the day in the water. Once you park and open the hatchback, you're greeted with excited energy that can barely be contained long enough for you to clip on the leash. When enjoying summertime fun in Colorado Springs with your dog, it is important to keep him safe from the dangers of blue-green algae so that these memorable days don't end in disaster.
At Ponderosa Veterinary Clinic, we know summer as a dog guardian in Colorado Springs often means many days hiking, playing at dog parks, and playing in lakes. When going on these grand outdoor adventures, it is imperative that you are aware of the aspects of nature that can prove harmful to your dog. As the days heat up, the blue-green algae that forms in lakes is one of the dangers that your dog faces. To ensure your summer days are spent safely with your dog, we've put together all you should know about blue-green algae, including where it's found, how it affects your dog, and what you can do to keep your dog out of harm's way.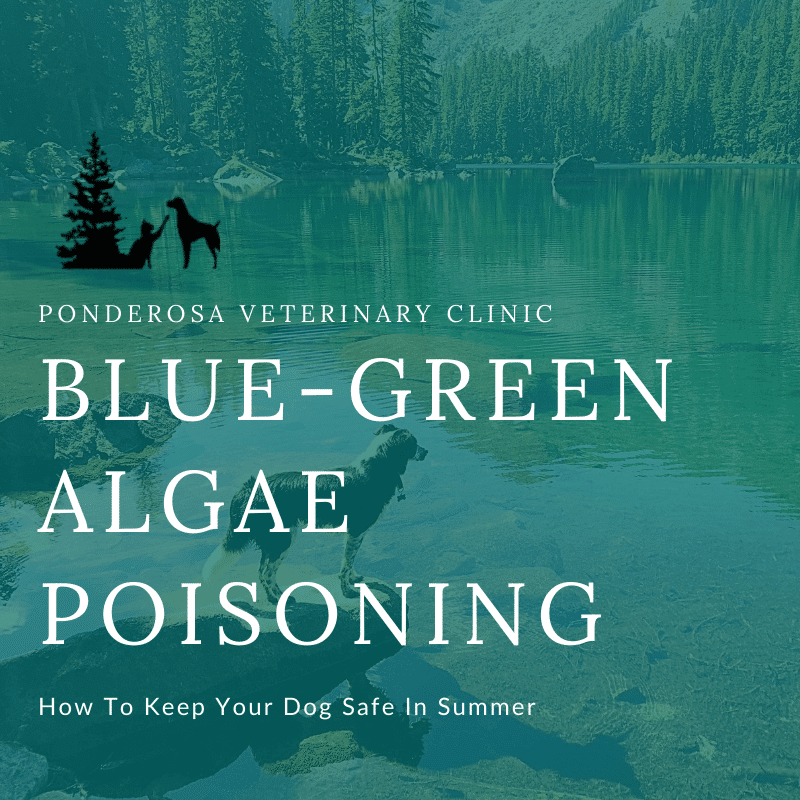 What Is Blue-Green Algae?
Blue-green algae is, in fact, not algae at all, but a bacteria called Cyanobacteria. Cyanobacteria live in bodies of water and are able to photosynthesize to create their own food. Although a unicellular bacteria, they grow in colonies which makes them visible in the water.

As the weather gets hotter in Colorado, our local lakes are capable of producing blue-green algae. This summer, Prospect Lake in Colorado Springs was closed due to the return of the toxic blue-green algae.
Blue-Green Algae Poisoning in Dogs
Unfortunately, your dog is susceptible to blue-green algae when swimming and playing at the lake. Your dog can ingest blue-green algae if the water gets in their mouth or if your dog licks his lips or fur after playing in a lake.
If you believe your dog has come in contact with blue-green algae, you should rinse him with clean water as soon as possible and immediately connect with your local veterinary clinic. Also, it is important to keep an eye out for any symptoms of blue-green algae poisoning.
Symptoms of Blue-Green Algae Poisoning in Dogs or Blue-Green Algae Symptoms in Dogs
There are various symptoms that will surface if your dog has ingested blue-green algae. These symptoms can become evident within 15 minutes of ingestion, but can also begin a few days after exposure.
Weakness
Diarrhea 
Vomiting
Disorientation/confusion
Drooling
Breathing difficulties
Seizures
If your dog displays these symptoms or anything similar, it is important to take your dog to the vet as soon as possible. Ultimately, the toxins in the blue-green algae cause liver poisoning. These toxins act quickly, so it is imperative that you seek medical help for your dog. If not caught early enough, it won't be possible for a veterinarian to reverse the damage done by the blue-green algae.
Blue-Green Algae Poisoning: 3 Tips to Keep Your Dog Safe
When enjoying the outdoors with your dog, it is your responsibility to take precautions, especially around bodies of water. To avoid blue-green algae, be sure to remember these three tips:
Don't let your dog drink from lakes and ponds
Keep your dog leashed when near bodies of water
Remember that not all toxins are visible
Although you have the best intentions, remember these things may slip your mind, especially if you're also with family or friends. It may be in you and your dog's best interest to just avoid lakes and ponds altogether in these hot, summer months. Thankfully, Colorado Springs has a lot to offer.
Dog Friendly Things To Do In Colorado Springs
With lots of outdoor space, Colorado Springs has many adventures awaiting you and your dog. Whether you love hiking or just want to take a load off and enjoy a beer, Colorado Springs has places that allow your dog to come with. Check out some of our previous posts to find a spot for you and your dog to spend some quality time together.
Compassionate Vet Care | Ponderosa Veterinary Clinic
As qualified vets in Colorado Springs, we understand that all of the potential dangers for your dog can be overwhelming. This is why we aim to educate pet owners, so the safety and health of your pet can be preserved. If you have any questions or concerns regarding your dog's health, contact us today.